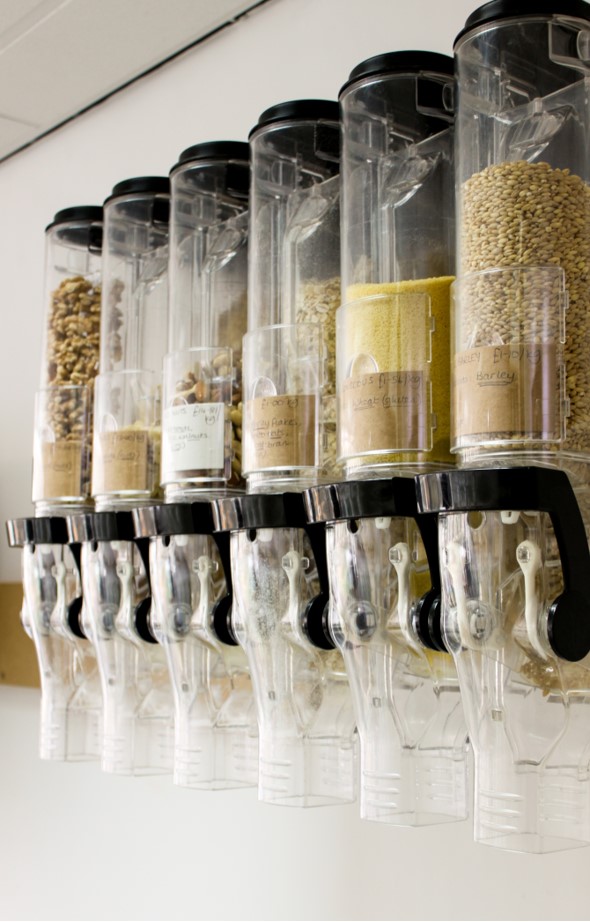 One of the newest additions to the town is Rugby Unwrapped. The shop, located in Church Street, supplies a wide range of dried food and other household products, all sold on a "bring your own packaging" basis.
The partners in the business, Clair Saxton and Sharon Lee are two friends who got the idea a couple of years ago after seeing a similar business in Devon. "We agreed it would be a great idea for Rugby and started researching how to go about getting it off the ground", Clair explains.
Things came to a head in the spring when changes in circumstances and the opportunity for take voluntary redundancy came about. "It was the right moment to go for it", she says.
The interior of the shop is light and welcoming. There are two levels, with more products available up a short flight of stairs behind the counter. Essentially, you need to bring your own containers, including suitable receptacles for the liquid products. Purchasing is on a "weigh, fill, weigh again and pay" basis, and the shop is equipped with electronic scales designed specifically for this type of retail operation.
Rugby Unwrapped is obviously based around the ideals of sustainability, reducing waste and using recyclable or biodegradable materials, but the business partners are keen to stress this is not just a shop for hardcore "eco warriors".
"Our belief is that, rather than having a small number of people radically changing their lifestyles and everyone else carrying on as before, it is better for that wider group to start doing something different", Sharon explains. "In other words, a large number of people making small changes will have more effect than a small number making big changes".
Clair agrees. "The more you start getting into this, it becomes your normal way of buying things, and you start to learn about other products that you can use. There are some incredible businesses out there making environmentally friendly and sustainable products".
Along with a wide range of foodstuffs including lentils, cereals and spices, the Rugby Unwrapped portfolio covers a full suite of household cleaning products. "We get them from Fill Refill in Northamptonshire", explains Sharon. "They make all their own products without using dyes or harsh chemicals, and only natural scents". This aspect of the offering covers hand soaps, washing up liquid, laundry detergent and powder, dishwasher powder, toilet cleaner and fabric conditioner.
One of the most tempting items in the range are the packets of crisps on sale in the shop. "We get these from farmers in Herefordshire", says Clair. "They use their own potatoes and all their flavourings are natural. They taste amazing and of course, the packets are 100% compostable". 
https://www.facebook.com/RugbyUnwrapped/